Transportation: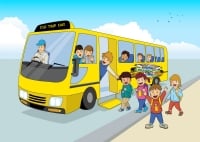 Getting here couldn't be easier . . . or more convenient! At Gan Israel parents have several options when it comes to the transportation to and from camp each day.
You may choose between door to door or central express bussing, and our parent transportation option. Each camp day begins and ends with our Gan Israel Transportation Team as we arrive at your home to transport your children to and from camp.  
All drivers are CDL licensed, finger printed as well as drug tested and have passed several background checks. Our Transportation specialists have years of experience transporting children throughout central New Jersey. Our experienced and talented transportation team is available each camp day to answer any questions or help you with any concerns.
Your Bus Stop: You will receive the location of your children's bus stop about one week before camp.
Please contact us if you require special transportation for your child.